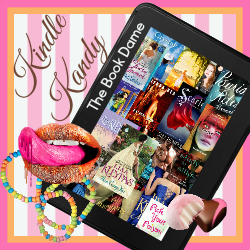 "Kindle Kandy" is a weekly event hosted at The Book Dame where we share our forgotten owned books
Series:
The Accelerati Trilogy #1
Author:
Neal Shusterman
and Eric Elfman
Genre:
middle grade, science fiction, fantasy, mystery, adventure, juvenile, humor, magic
Tesla's Attic is the first book in a brilliantly imagined and hilariously written trilogy that combines science, magic, intrigue, and just plain weirdness, about four kids who are caught up in a dangerous plan concocted by the eccentric inventor Nikola Tesla.
After their home burns down, fourteen-year-old Nick, his younger brother, and their father move into a ramshackle Victorian house they've inherited. When Nick opens the door to his attic room, he's hit in the head by a toaster. That's just the beginning of his weird experiences with the old junk stored up there. After getting rid of the odd antiques in a garage sale, Nick befriends some local kids-Mitch, Caitlin, and Vincent-and they discover that all of the objects have extraordinary properties. What's more, Nick figures out that the attic is a strange magnetic vortex, which attracts all sorts of trouble. It's as if the attic itself has an intelligence . . . and a purpose.
Ultimately Nick learns that the genius Nikola Tesla placed the items-his last inventions-in the attic as part of a larger plan that he mathematically predicted. Nick and his new friends must retrieve everything that was sold at the garage sale and keep it safe. But the task is fraught with peril-in addition to the dangers inherent in Tesla's mysterious and powerful creations, a secret society of physicists, the Accelerati, is determined to stop Nick and alter destiny to achieve its own devious ends. It's a lot for a guy to handle, especially when he'd much rather fly under the radar as the new kid in town.
Fans of intrigue, action, humor, and nonstop surprises are guaranteed a read unlike any other in Tesla's Attic, Book One of the Accelerati Trilogy.

I remember being so excited for this then but after getting it, I just shoved it in my shelf until I saw it a week ago and
posted a photo of it on instagram
:) The second book has been out for a couple of months. Not really sure if I'll be able to get around this soon but hopefully I'll be able to do so.
Series:
Author:
Paige McKenzie
Genre:
middle grade, science fiction, fantasy, mystery, adventure, juvenile, humor, magic
In that place where you're more asleep than awake any more, I hear something else. A phrase uttered in a child's voice, no more than a whisper: Night Night.
Something freaky's going on with Sunshine's new house . . . there's the chill that wraps itself around her bones, the giggling she can hear in the dead of night, and then the strange shadows that lurk in her photographs. But the more weird stuff that happens, the less her mum believes her. Sunshine's always had a quirky affiliation with the past, but this time, history is getting much too close for comfort . . .
If there is something, or someone, haunting her house, what do they want? And what will they do if Sunshine can't help them?
As things become more frightening and dangerous, and the giggles she hears turn to sobs and screams, Sunshine has no choice but to accept what she is, face the test before her and save her mother from a fate worse than death.
The first in a frighteningly good new series based on the popular YouTube sensation The Haunting of Sunshine Girl Network, created by Paige McKenzie.
This is one of those review copies I keep on telling myself I'll read since the book has already been released (and I keep seeing it in the bookstore. It's haunting me!!). I promise I'll go around this by August (since my July kindle tbr is already lined up - ohlookimsoorganized :P)
follow links: